Exhibition Now
Tsvetomira Borisova is a visual artist from Sofia, Bulgaria. She works mostly with sculptured objects, and ceramics is her main medium. In her recent works she has explored the effects of society on the inner world of the individual, at times leaning on familiar narratives from our reality or history and interpreting them.
Tsvetomira
Borisova︎︎︎ Death at the dinner table: An exploration of the case of Johann Schobert and the poisonous mushrooms

22.03.2023-18.04.2023
Johann Schobert is a composer who died along with his family on 28 August 1767, in his home in Paris. The day before, he had gone to pick mushrooms in a nearby forest and disregarding the warnings of two consecutive cooks that the mushrooms he foraged are surely poisonous, Schobert insisted upon his servants to cook them into soup.
Was it his stubbornness that made him gamble life away? Four specialists in fields related to the case give us an insight into what could have informed Schobert's decision. But still the facts and speculations of science are not sufficient in forming a clear conclusion, it is then fantasy that provides an alternative explanation. Did Schobert know something that made him fearless in the face of certain death? Did a fantastical vision lure and enchant him into acting this way, with the slight gesture of a pianist - lead him down a weave of dreams?
Images
---
Previous
photo credit: Yana Lozeva
Aleksandra Laskova is a Sofia-based multidisciplinary artist who explores themes of human sensitivity, intimacy, and trauma responses. During the last few years of collective trauma during unforeseen historical events, her work is mainly focused on recontextualizing personal disappointments and embarassments by aestheticizing memories of loneliness or hurt.
Aleksandra Laskova︎︎︎

01.03.2023-14.03.2023
Guest1:
hi, interesting show, no text...what is it actually??
The Artist:
This is my substitute irl, an avatar
Because I'm at work
Guest1:
Great, what do you actually do?
The Artist:
Well, I work as an IT support, but I'm also a visual artist
Remotely at least lol
Guest1:
Fuck, yeah, but how do you combine those two?
Doesn't work eat up all of your time?
The Artist:
It eats up more than just my time :D I sometimes become a remote participant of my own life
Also when I work from home I can get super lonely
Guest1:
We are all lonely hahaha
Are you able to attend your show openings?
The Artist:
Sometimes :D if they happen later in the evening, because I'm in the office at least until 6, sometimes even later
I don't miss that part the most, but this can make me a stranger in the community
Or the community I would have had if I were a real artist
Guest1:
And why is the avatar of your artist-alter-ego alone in the space, without a background?
The Artist:
Well it is right where I would be if I was there :D does it look empty to you?
Or cozy?
Guest1:
Phew real artist...mm romantic
The Artist:
Yes, it is quite abstract, but there is something you learn about yourself from the places you are not at
Guest1:
Or that you want to be
Do you really want to talk to your audience?
The Artist:
I want to be able to communicate :D I actually find other people super interesting
But the sense of virtual community is more familiar to me anyway
Guest1:
Huh
Last question
If you didn't have a day job, how do you imagine being an artist, would the avatar look like someone else?
The Artist:
Well, maybe I would be in its place instead or find other reasons to hide behind the doll. It is after all just a placeholder
Guest1:
Second last
Where can we chat, at www.garaspace.art ??
The Artist:
In the live stream, but on the website there is a link, click on the title of the exhibition
Guest1:
Thanks, bye
The Artist:
The project is supported by National Culture Fund
Images
---
Previous
Martin Atanasov︎︎︎ Notes on a "Cutout Study"

16.02.2023-24.02.2023
Martin Atanasov is a Sofia-based visual artist. In 2014 he graduated from FAMU - Prague, in the Photography department. He works mostly in the field of photobooks. In the last years, he has developed and participated in projects connected to the visual anthropology, photography and books such as Nature Index, Impossible Actions and How to Forget Your Past.
Cutout Study is research connected to the topics of the body, identity and homosexuality in the context of Bulgaria. Following different parts, the study contains personal and archival/historical studies.
Photobook launch and notes on a process.
In GARA art space, the first visual and textual research from the project Cutout Study would be presented.
- "I draw with light the outline of his body territory" is a tryptic photobook, which will be shown at the opening and it is in an edition of 10 copies. It contains 3 visual poems, part of personal fragments from "Cutout Study". The images are cutouts from a private archive of one male body.
The series contains many photo poems carrying the name "Note". These are some of the first ones from the series:
Note:1
Note:3
Note:6
- "Two memories, one bath" is a photobook and sculpture, which contains two short archival stories.
- Note: 40 is a central piece in the space, and the audience is invited to peel together the layers and uncover the photograph.
Note: 40 is part of the series of notes/photopoems from the research "Cutout study".
The project is supported by National Culture Fund
Images
---
Previous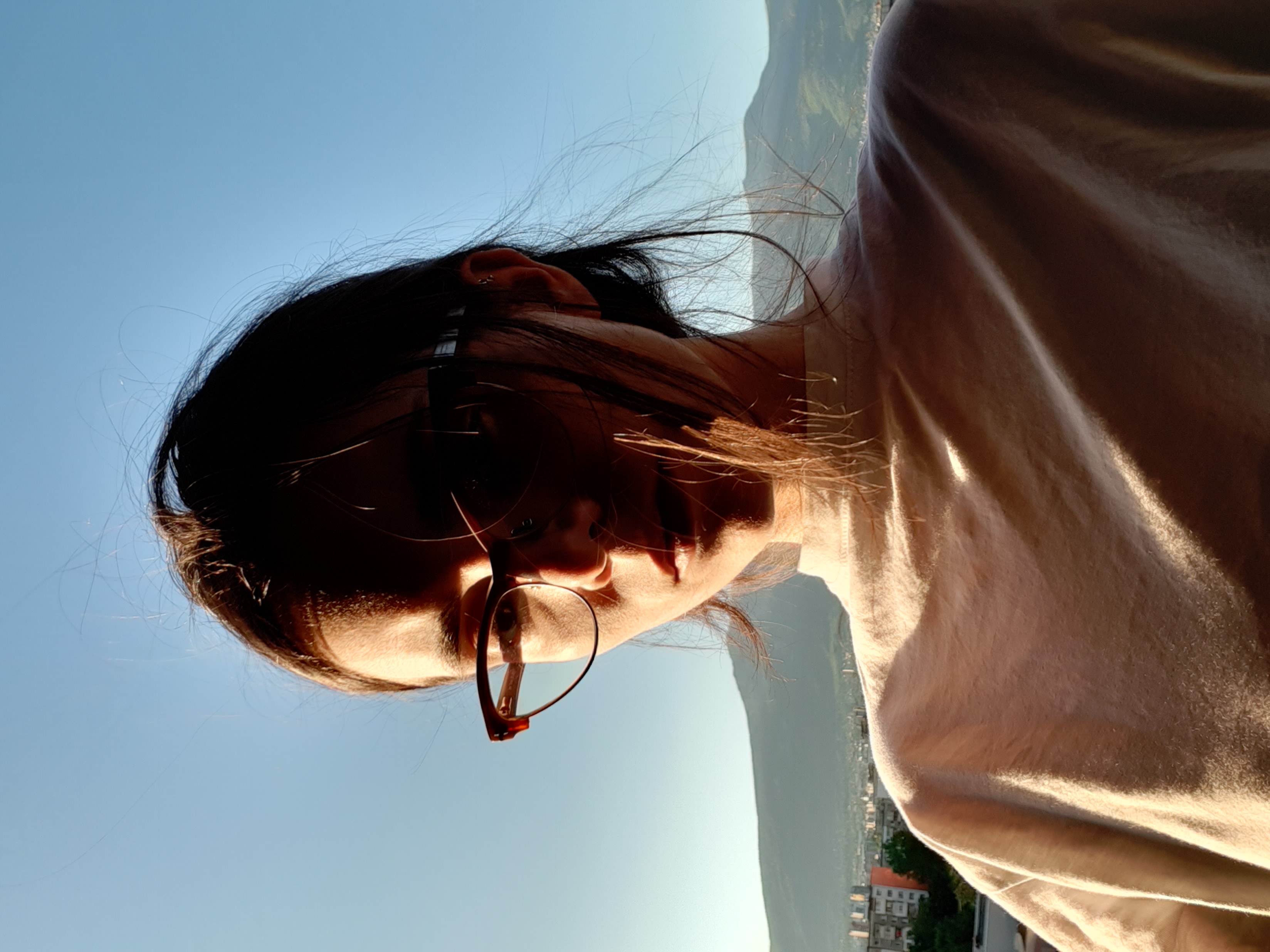 Billy Mateeva ︎︎︎ Sad, Cells, Sticks
Curator: Denislav Golemanov

22.12.2022-20.01.2023
Billy Mateeva practices graphic design and art inspired by everyday life. With irony towards the sacred and confusing the unusual with the prosaic, she creates works with the sweet and sour taste familiar to her contemporaries.
25 levas paid. We go home. I adorn him, I make him shine.
To beam happiness between the sofa, the TV, the cacti, the violets - to lооk at life.
Smells right.
To look after revelries, memories, dreams, and ribbons being cut. I couldn't help but get mad when we bump shoulders – two frameworks standing. Now I am cleaning. I promised myself to be more balanced. Not a lone promise. Now I have to clean after him and them as well. I carelessly gather all the remainings into mixed piles. One warm month with me was enough for him to see the very same world where, supposedly, he was the cleaner and I, the polluter.
I wonder if he saw how deep my roots go.
Reversed advent calendar in a niche in a one-bedroom apartment. Meant to delight, at first, and then to die along with every other promise and hope after the new year. The exhibition comprises two parts - an opening and a closing act, a month away from each other. This specific period of time was chosen to encase the withering of a Christmas tree. Both events gathered professionals in the creative fields to discuss the ecological impact of rituals on nature and to propose their creative solutions to sustainable acts of celebration in our society.
The project is supported by National Culture Fund
Images
---
Previous
photo credit: Rene Georgieva
Valko
Chobanov ︎︎︎ Niche Market
18.11-16.12.202
Valko Chobanov is a visual artist and independent curator. He has been part of solo and group exhibitions in Bulgaria and abroad. Winner of BAZA award 2019; among the initiators and organizers of the annual group exhibition "Onomatopoeia". "Art is fun for me. Most of what I do is a combination of messages and is a commentary on the social and institutional reality I have to work with. My main inspiration for creating art comes – as paradoxical as it sounds – from nature and the internet, at the same time. My motivation to continue doing contemporary art is due to my great desire to change the way people in Bulgaria look at it." "Valko Chobanov does not have guidelines in his work that are consistent neither as a subject nor as a technique."
In the current climate of a global financial recession (I don't claim I know economics, the statement is feeling-based) combined with my creative recession from original ideas, I invite you to spend some time and money with me. There will be "art" available for purchase every hour on the hour from noon till dusk at an online auction.

In the mood for renovations, arts and crafts, and inspired by the immense amount of youtube videos I consume before I go to bed. I invite you on a journey into the imagination.

I want you to relax, take a deep breath, and envisage you are in your mind palace.

Every room in your palace has a specific purpose.

The bathroom is the place for self-care.

You have always wanted a plant in your bathroom unfortunately there is no natural light inside. Perhaps you can demolish the wall and make space for a new window. You will need a bath bomb. Several candles for ambiance. And a noise machine emulating the sound of ocean waves crashing on a virgin beach. Come to think of it, some plastic plants will do.

Your living room is your conspiracy theory room. A place for radical revelations.

To create a proper conspiracy theory you need a laserjet printer to print out pictures you find on the internet. The pictures will act as a piece of visual evidence confirming your suspicions. Add some yellow sticky notes scribbled with a sharpie. Some red yarn and thumbtacks act as vectors revealing the hidden connections. Adding logic to a system. If your home has drywall, you can stick the thumbtacks directly to the wall; if you don't you will need a big corkboard. Oh… I almost forgot the cutouts from the newspapers.

Of course, the kitchen is the place you do the cooking.

In your kitchen, there is a drawer that has scissors that will be perfect for cutting out newspaper scraps. They never feel lonely there because they are forever in a pair. On the countertop sits the trusty blender that you use for making paper pulp from the excess newspaper. The paper pulp you use for making small paper mache objects. One of the objects you made in the past now acts as a decoration for your kitchen windowsill. It is a small bust depicting a famous singer that you can't recall the name of at the moment.
There is your bedroom, the place you do your literal and metaphorical dreaming.

A clean pair of sheets. Lately, you have been using fabric softener that contains some citrus aromatic oils (lemon and grapefruit to be exact). You watched a video that informed you about cats and the fact that they are not particularly fond of the smell of lemon. And lately, you are tired of using lint rollers on your favorite black shirt that you use as a pajama. The shirt is black because it is merchandise from that one time you went to that concert of your favorite band.

The foyer is the place you enter your mind palace. The space you leave the outside world and take off your shoes.

It is of no importance that this is the smallest room in your mind palace. In the spirit of renovations, no place will be left unchanged. You will need to install shelves that can hold your plants at a safe distance that cats can't get their destructive paws on. Denying them a twisted version of entertainment, clawing at the succulents. Maybe even paint your window frame with bright green spray paint. Next to the window you will place your modest selection of aloe vera plants or are they agave plants? You are not sure about the difference, google lens either. You customize your flower pots with air-drying clay to make them look like they are covered in rock mosaic. On top, you write inspirational words, words of encouragement that will greet you every day on your way out or in depending on your perspective.

Love.

Wanderlust.

Tranquility.

Happiness.

Vitality.

Smile.

You are not convinced that the collections of porcelain dogs you inherited from a distant relative will feel at home on the shelves. But it is worth a try, and if one day you feel like they don't belong you will banish them to the dusty cardboard box under your bed. And as you leave your mind palace, remember to water the plants.

text: Valko Chobanov


Images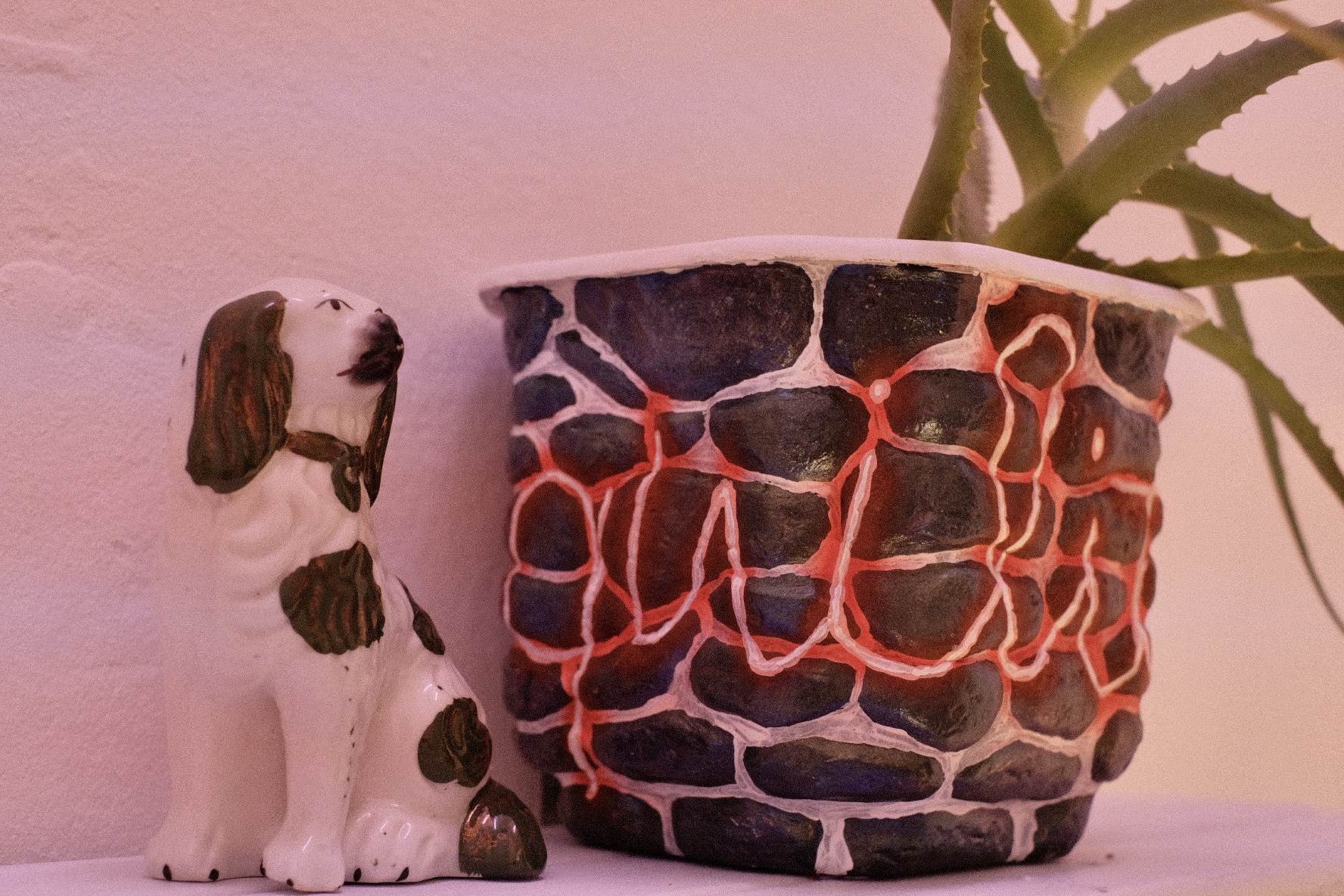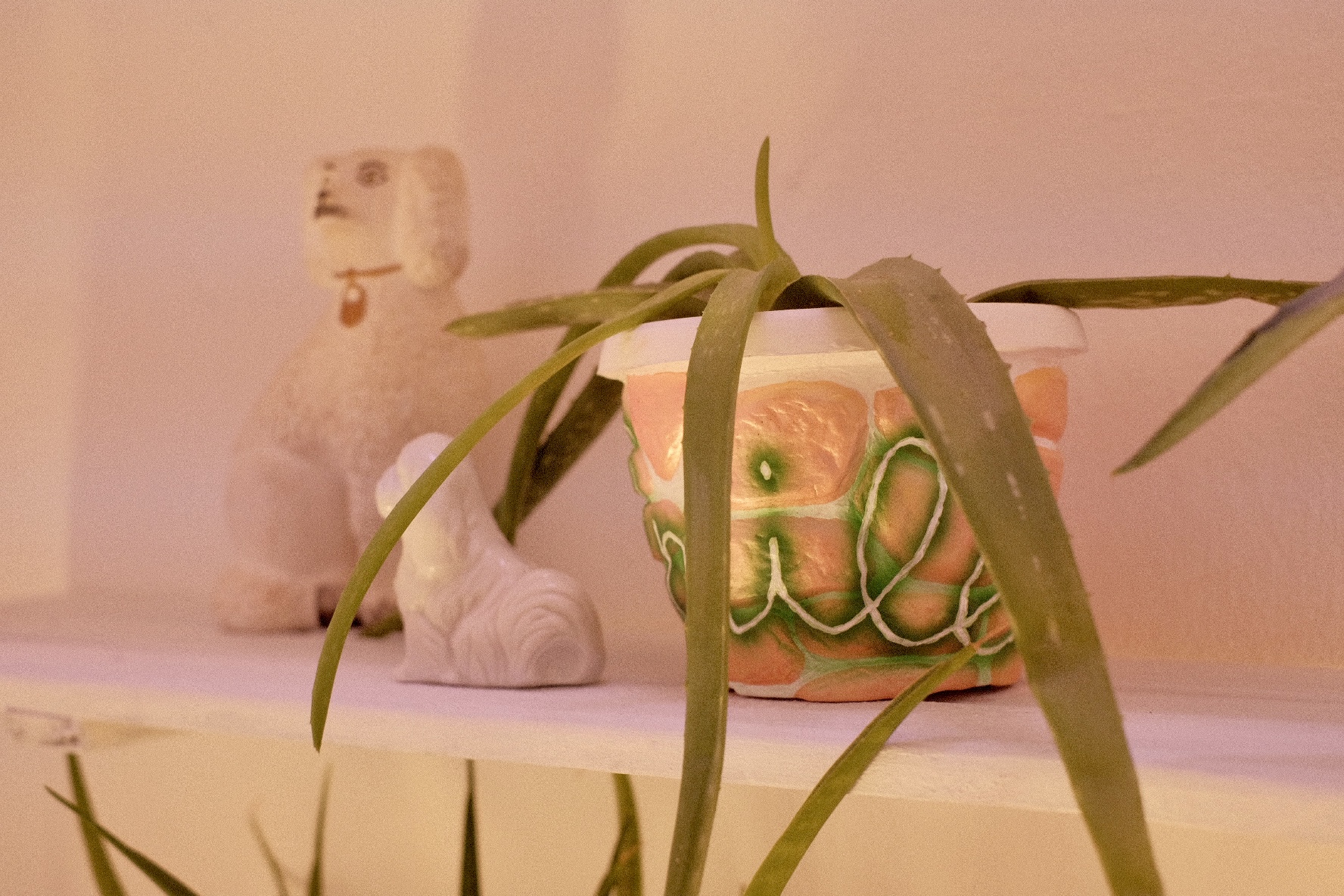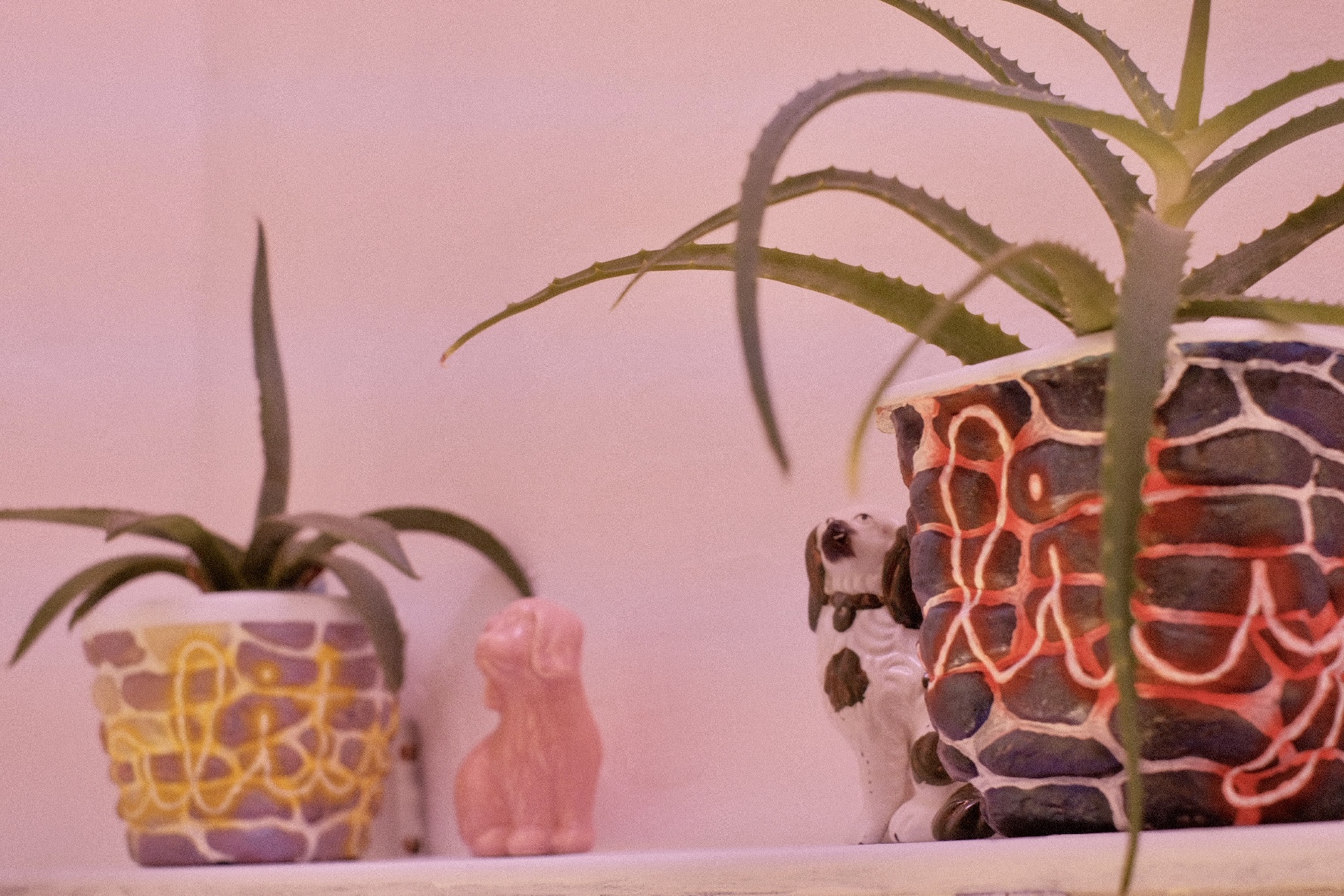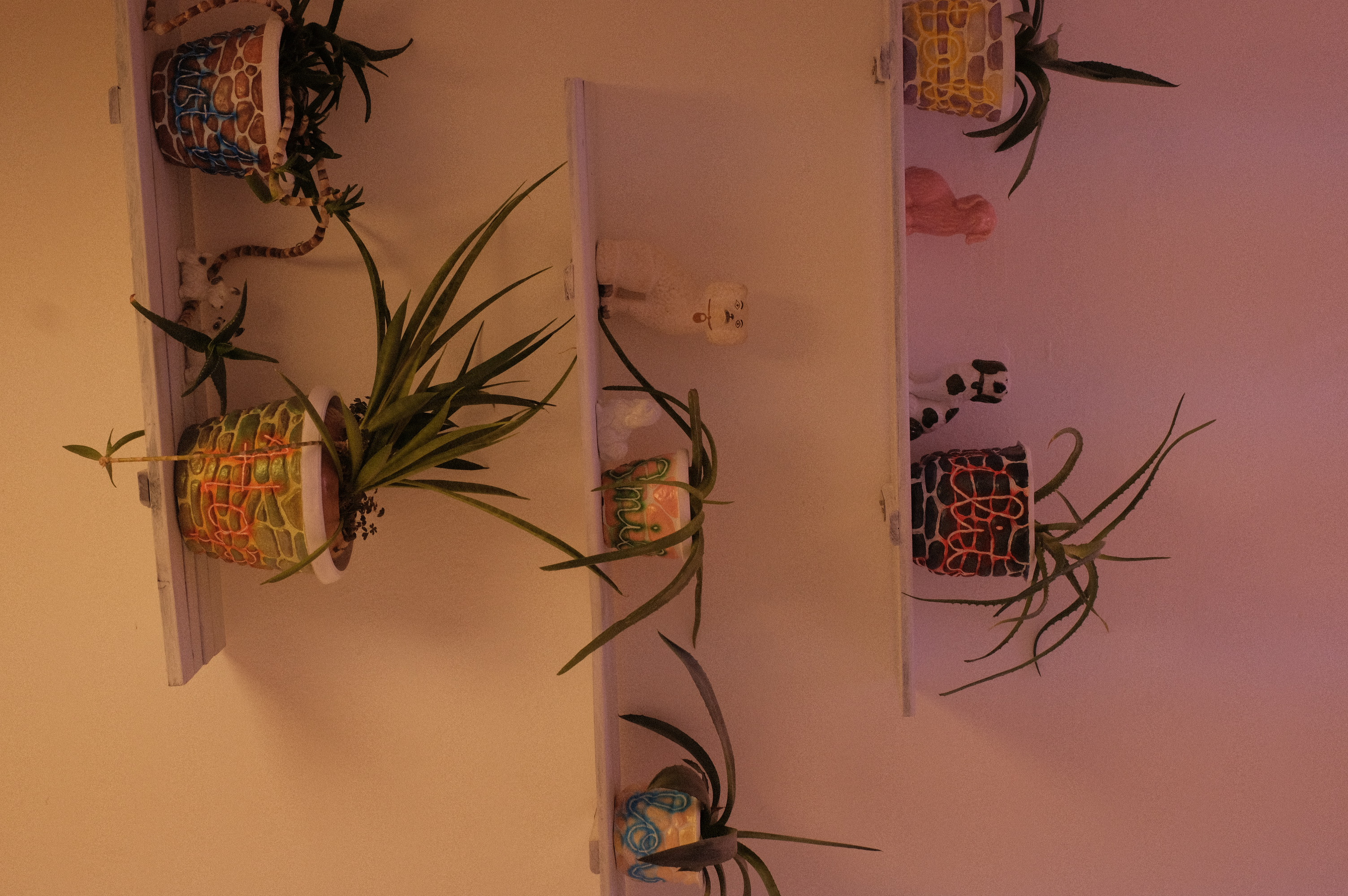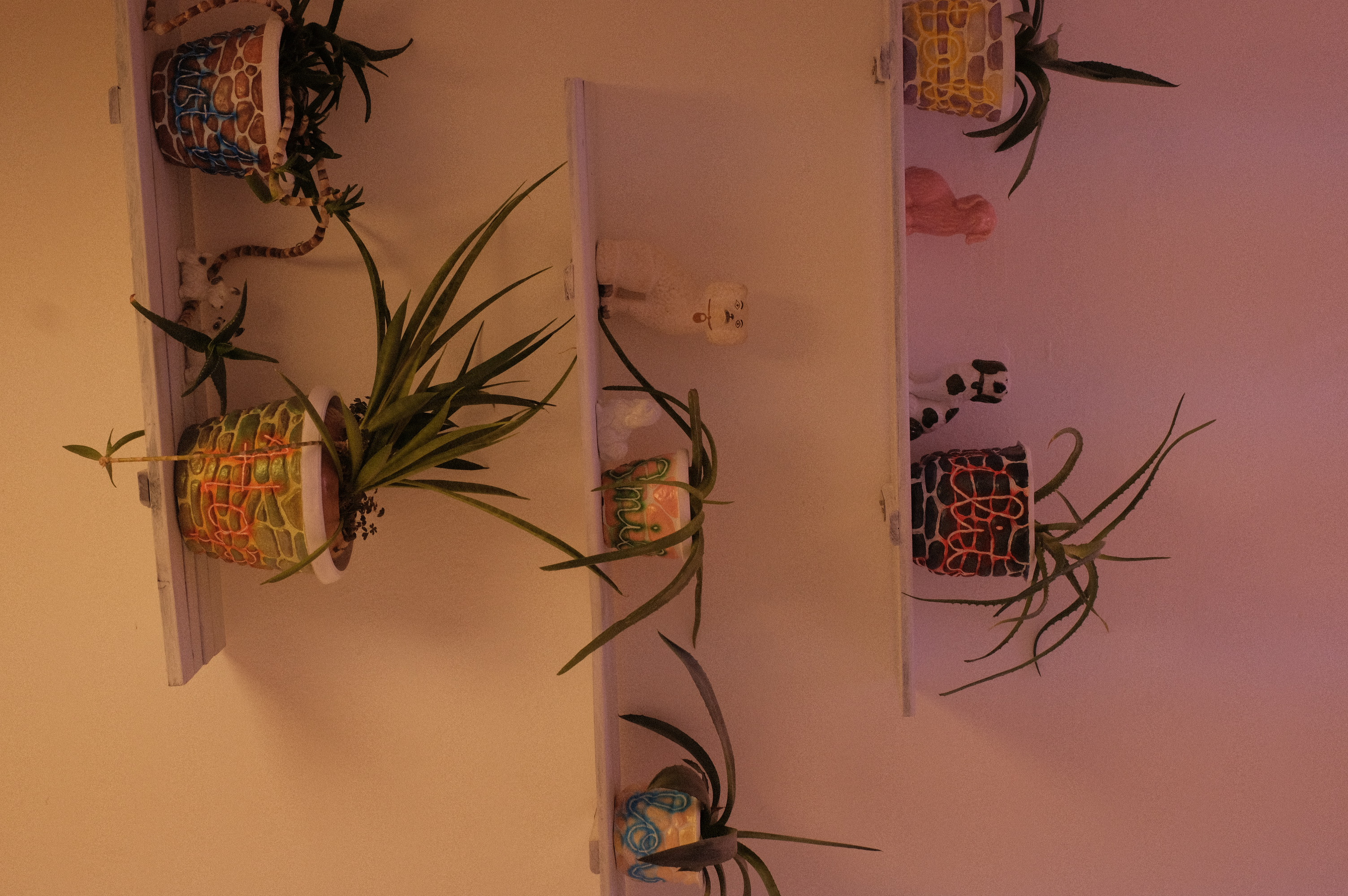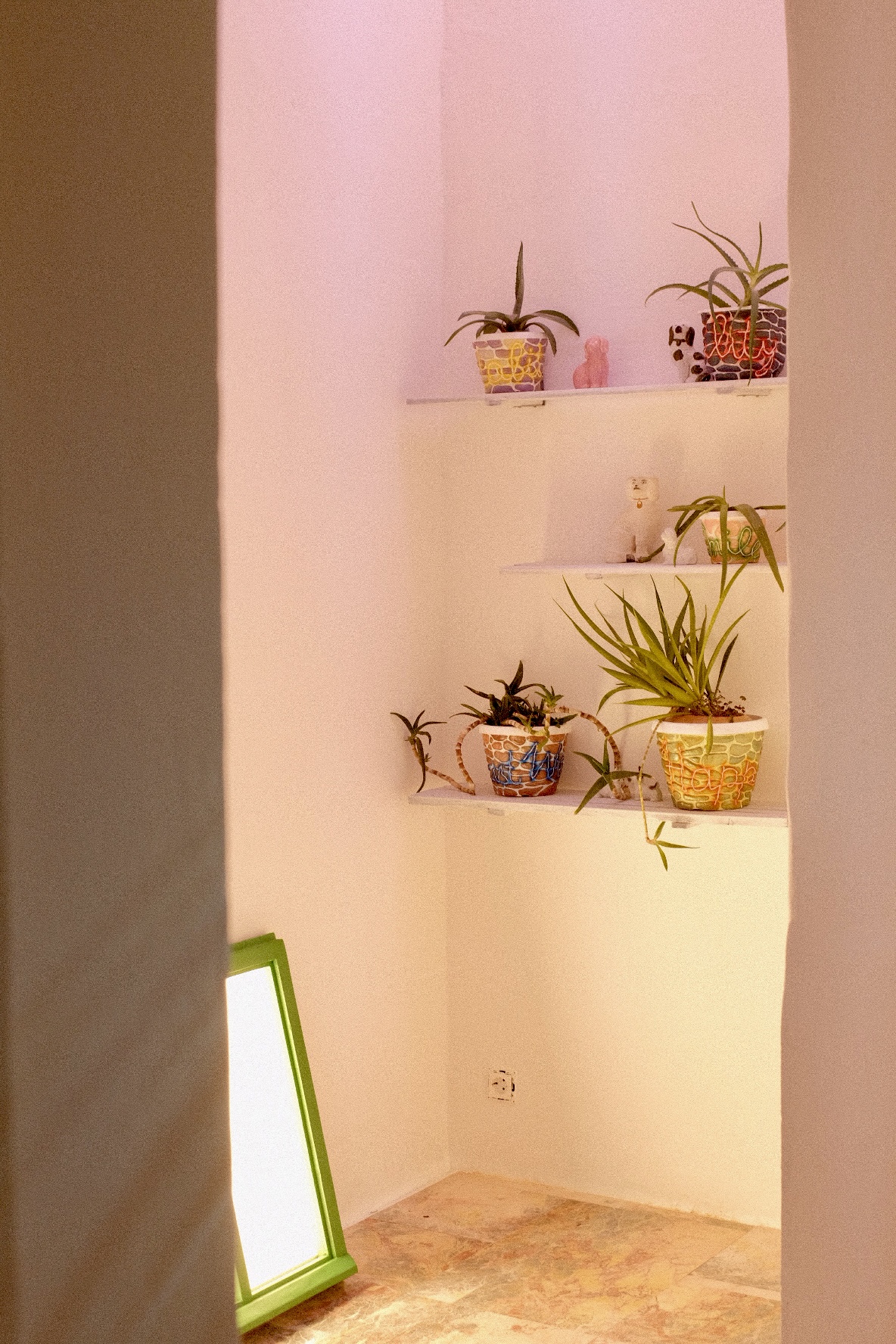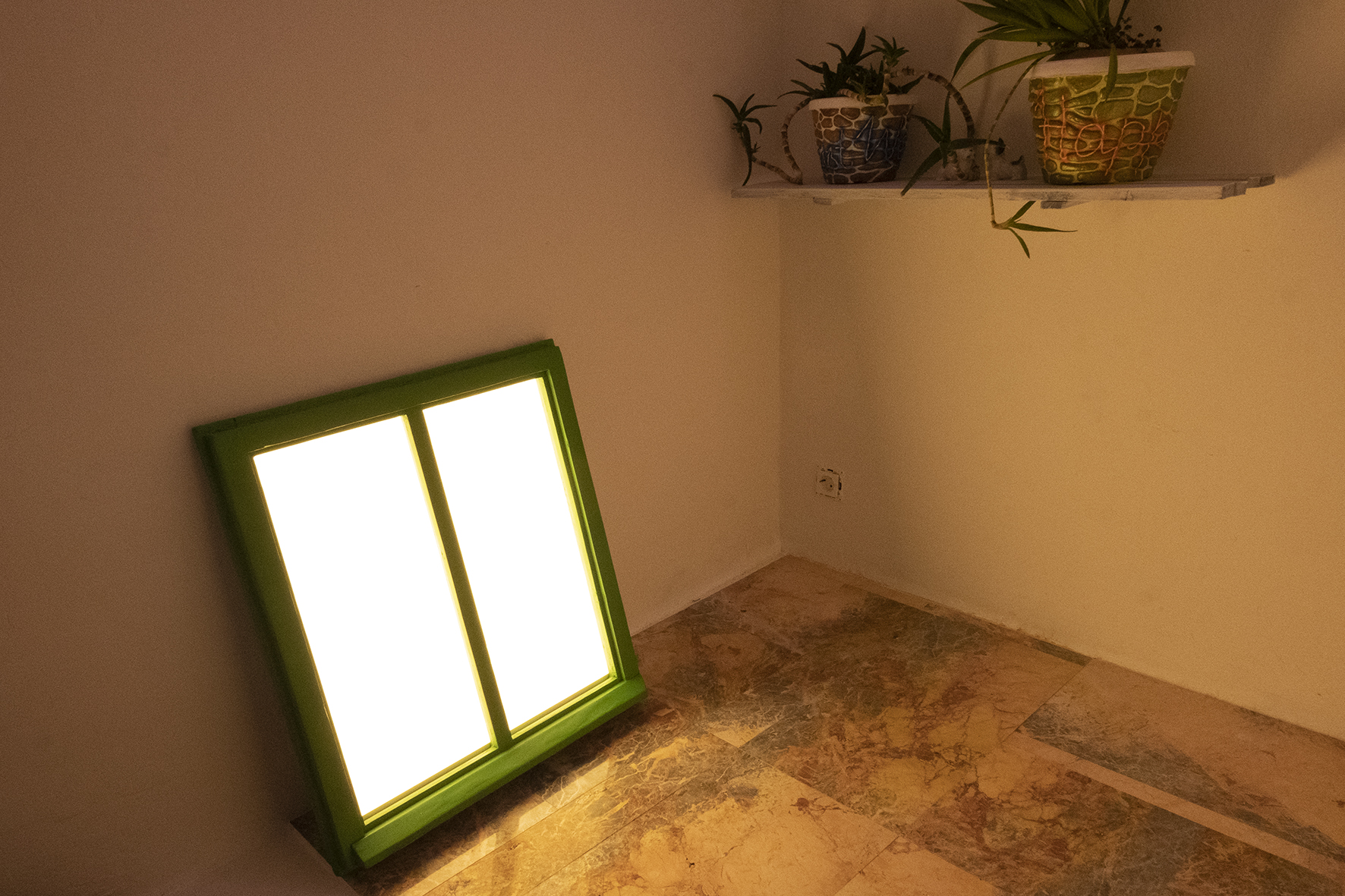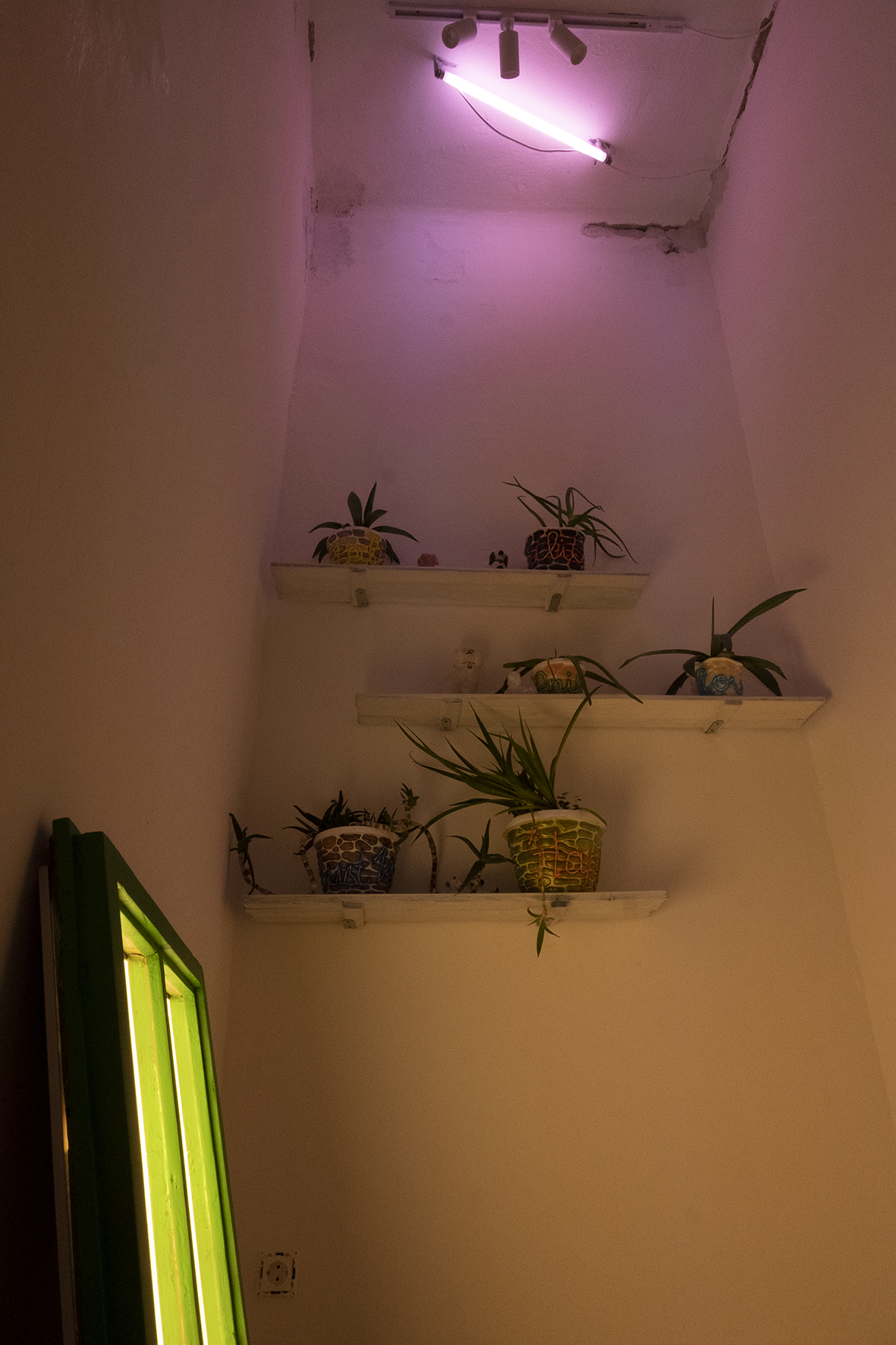 ---
Previous
Krasimira Butseva ︎︎︎ Are we communists?
curator: Vasil Vladimirov
18.10.-16.11.2022
Krasimira Butseva is a visual artist, researcher and educator. In her practice, she investigates political violence, trauma and history in the context of the Bulgarian communist regime, through photography, video, sound and installation. She also is a lecturer at the London College of Communication, University of the Arts London; in addition, she is the awardee of BAZA (2022), and has been an artist fellow at Akademie Schloss Solitude (2021); she also has been a part of solo and group exhibitions in Bulgaria, UK, Germany, China, Serbia and South Africa.
The dish is made with two ingredients - videos about how communism appears in pop culture and your own textual and visual notes. Depending on the availability, you can use fresh or aged notes. This is a great way to use up leftovers. Once you collect the notes, let them sit for 24 hours to drain of any problematic flavors and tastes. Do the same with the videos, but be especially careful because if they don't drain well, they can become extremely toxic and harmful. Always check the origin of the ingredients. Videos found in the wild can be extremely compelling, but just as poisonous. Process the drained ingredients in a grinder or blender. If you're not a fan of the analog process use a digital alternative. The secret is making a good mixture. This is what gives your dish a special and balanced taste, a unique mark of your artistry. Fill and smooth the mixture into an enamelled pot.The container should be clean to avoid external contamination. Let the mixture rest for another 24 hours. Remember that once mixed, the ingredients take on new nutritional qualities. Therefore, letting things rest and tasting them regularly during the process is essential. Once you are happy with the taste and consistency of the mixture, smooth with a bottle to give them the desired shape. It is recommended that you make three different sizes because the flavor is distributed differently and you will effectively have three different dishes with one mixture. Repeat as many times as needed and then hang. Leave in a dry place for a few days and in the dark for up to a month.

text: Vasil Vladimirov

The fine art works part of the series "Are we communists?" deal both with the social and public, but also with the personal. In the file komunistkite.mp4, the artist flicks through the channels of the TV and underlines the two extreme positions – the anticommunist and communist. While fail2.mp4 and Film_3.mp4 show some kind of fragmentary images, bad ones, with poor quality – from films such as "The Crimes of the Comrades" and "The Survivors – stories from the camps", alongside a series of screenshots from Google of places of violence, and others where parts of the archive of State Security were destroyed in the 1990s. And in the last artwork KRASI.mp4 you will encounter the author in motion/frozen, here with her body she refers to the book "The body keeps the score: Brain, Mind, and Body in the Healing of Trauma" and bodily movements and tactics of experiencing and processing traumatic events.

Text by: KRASI.mp4



Images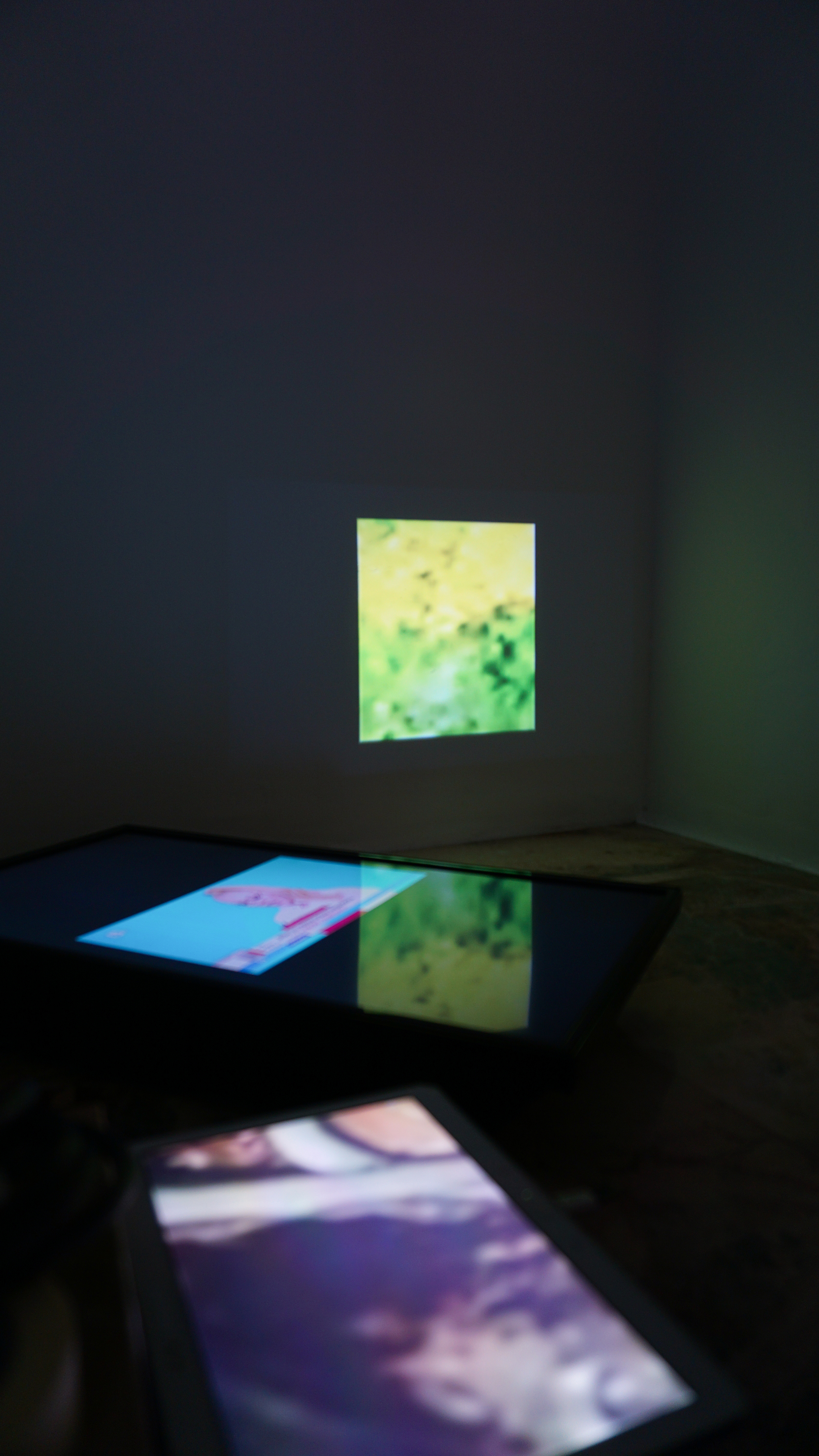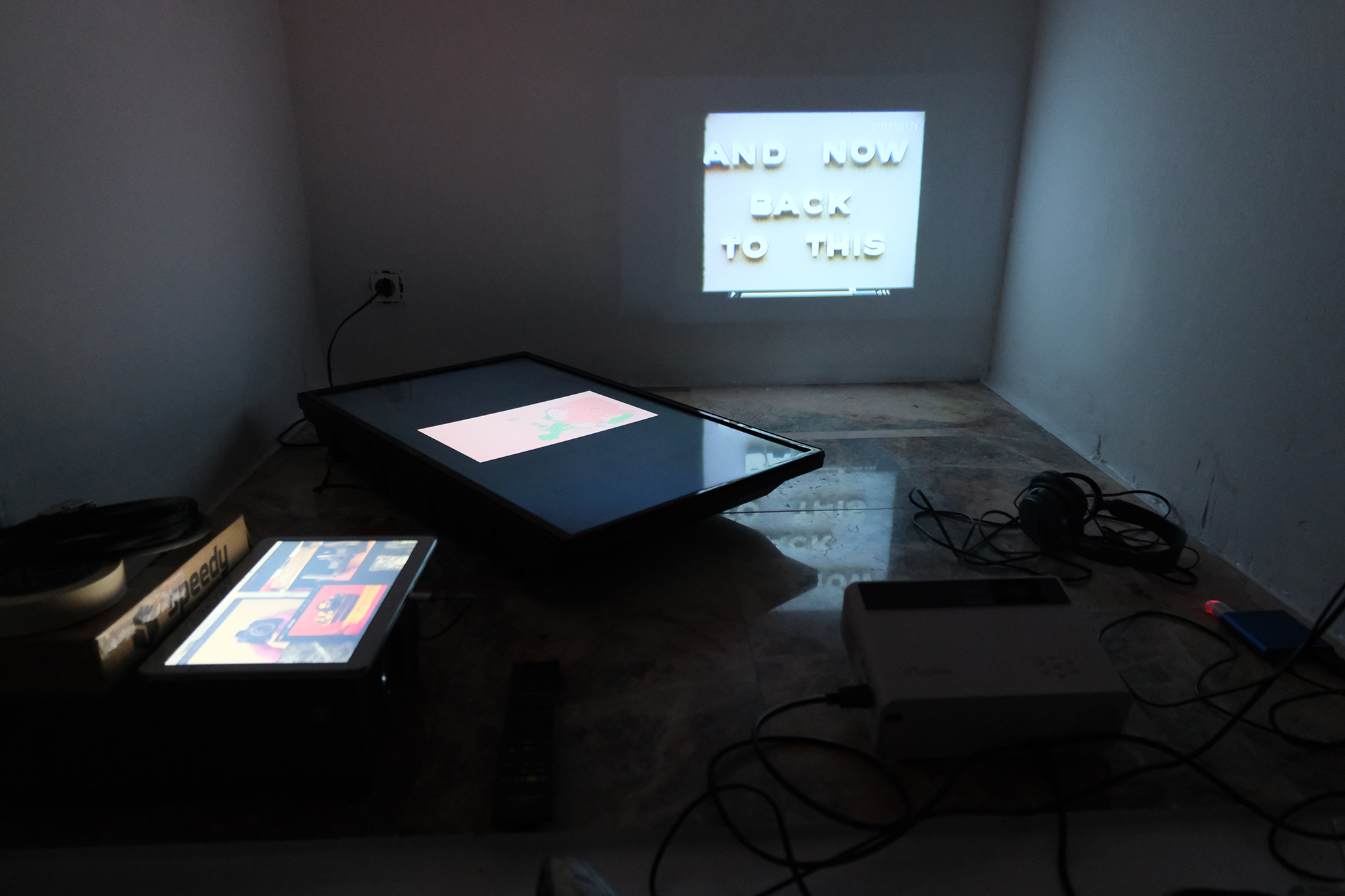 ---